Acta Oncologica 2009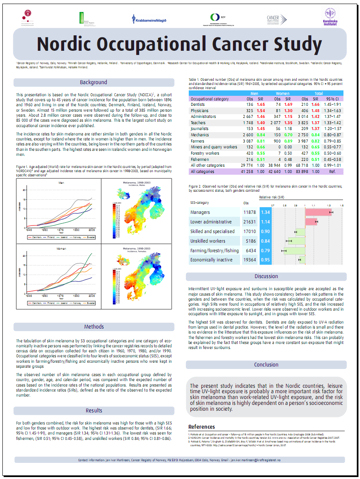 Nordic Occupational Cancer Study (NOCCA)
We present up to 45 years of cancer incidence data by occupational category for the Nordic populations. The study covers the 15 million people aged 30-64 years in the 1960, 1970, 1980/1981 and/or 1990 censuses in Denmark, Finland, Iceland, Norway and Sweden, and the 2.8 million incident cancer cases diagnosed in these people in a follow-up until about 2005.

Further studies will focus on associations between specific work-related factors and well-defined cancer diseases with the aim to identify exposure-response patterns. In addition to the cancer data demonstrated in the incidence publication, the NOCCA project produces a Nordic Job Exposure Matrix (JEM) that transforms information about occupational title histories to quantitative estimates of specific exposures. The third essential component is methodological development targeted at better interpretation of results based on averaged information of exposures and co-factors in the occupational categories.
This study was financially supported by the
Nordic Cancer Union
and
Scientific Council in Sweden.
EPI team
Eero Pukkala1,2
Jan Ivar Martinsen3
Elsebeth Lynge4
Pär Sparèn6
Laufey Tryggvadottir7,15
Elisabete Weiderpass3,6,8,9
Kristina Kjærheim3
JEM team
Timo Kauppinen10
Pirjo Heikkilä10
Nils Plato6
Torill Woldbaek11
Kaare Lenvik11
Johnni Hansen12
Vidir Kristjansson13
STAT team
Esa Läärä14
Project coordinator
Prof. Eero Pukkala
1